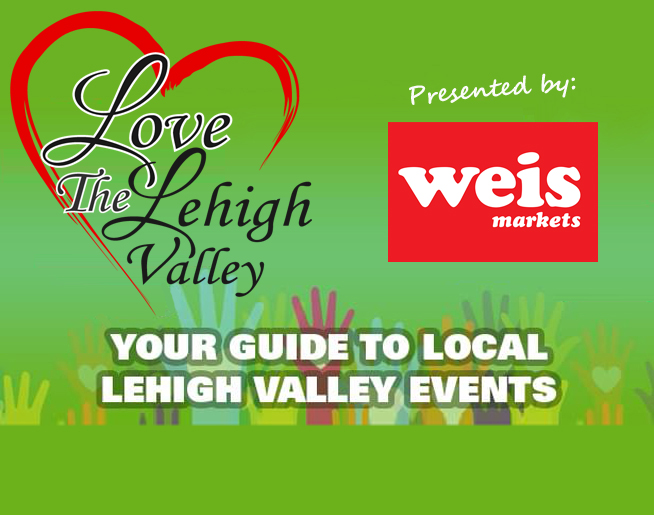 MARCH 1 – MARCH 31, 2021 | GOODWILL FIRE COMPANY #1: Bell Ace Hardware in Trexlertown is donating$5.00 for every red 5-gallon 'Goodwill Fire Company #1' Commemorative Bucket purchased in 2021. Additionally, fill the bucket with items and get 20% OFF what's inside! (see store for details). Bell Ace Hardware is located at 1051 Trexlertown Rd in Trexlertown. Call 610-395-1132
MARCH 1 – APRIL 1, 2021 | OUR HOMETOWN HEROES: For the 11th year, the SteelStacks Campus will be transformed into a living memorial honoring our hometown heroes. The campus will be draped with images of local military heroes as a display of the appreciation and gratitude for their sacrifices and contributions. The banners will display photos of the soldiers, their rank, branch of service, era of service and hometown. Presented by Embassy Bank. CLICK HERE
MARCH 26 – MAY 1, 2021 | LEHIGH VALLEY BOOK FESTIVAL: The Lehigh Valley Book Festival is a celebration of books and the strong connections they forge – bringing published authors, illustrators and readers together, through thoughtful, approachable and inclusive programming. Our mission is based on the notion that reading is for everybody – and that people of all ages and interests can find something to spark their imagination, broaden their perspective and nourish their spirit in a book. MORE INFO
MARCH 29 – MAY 1, 2021 | LEUKEMIA & LYMPHOMA SOCIETY: The Man & Woman Of The Year exists because the movement against cancer needs leaders. Candidates in this philanthropic competition form and lead powerful fundraising teams that help find innovative ways of fueling the Leukemia & Lymphoma Society mission. With their teammates behind them, this exceptional group competes in honor of two local blood cancer survivors for the prestigious title of Man Or Woman Of The Year.  Click here to support or learn more about The Lehigh Valley Campaign. 
APRIL 17, 2021 | LEHIGH VALLEY HEART BALL: Together, we are relentlessly focused on the heart of our community. Through the Heart Ball campaign, we celebrate our collective success in driving change, funding science and improving behaviors – no matter where, or how, we gather. That means taking our efforts beyond the ballroom, working every day to help every heart. Click HERE for info.
APRIL 18 – May 9, 2021 |   BEAVER STADIUM VIRTUAL RUN & FUN: Staring April 18th through May 9th join the Paterno Family Virtual Beaver Stadium Run & Fun event, presented by Sheetz.  Special Olympics Pennsylvania invites you to run a 5K in your favorite neighborhood, walk 2 miles, or engage in fun family exercises to support Special Olympics athletes and help people with intellectual disabilities get off the sidelines!  Click HERE to register, start your team or donate. 
APRIL 18, 2021 | EARTH DAY CELEBRATION: Celebrate Earth Day with Easton Wine Project and Easton Urban Farm on Sunday, April 18th from 11am to 3pm at Easton Area Neighborhood Center on Old Philadelphia Road in Easton. Enjoy tours of the farm, crafts for the kids, live music and entertainment, and food at this family friendly event. For those willing to roll up their sleeves and get their hands in the soil, the garden beds will be ready for some love and require some light digging and weeding.  The Earth Day Celebration is open to the whole community. Masks will be required, and social distancing will be practiced.  Click HERE for info.
APRIL 24, 2021 | ARTDART 5K VIRTUAL RUN/WALK: Get outside and moving this spring and help raise money in support of arts education! The fifth annual ArtDart 5k Run/Walk will take place virtually and support the students and arts-enriched educational programs of Arts Academy Charter Middle School. Click HERE for info.
MAY 17, 2021 | LEVITT PAVILION GOLF TOURNAMENT: From the Levitt Lawn to the Green Pond Lawn, Join Steelstacks for golf at a different green scene. All proceeds directly support Levitt Pavilion's mission to provide over 50 free concerts each summer for the Lehigh Valley community Click HERE for info.
JUNE 12, 2021 | BOWLING FOR HAMPTON: During a winter storm in 2021, the roof of Hampton Lanes and Hammerhead Lounge in Northampton collapsed under the weight of the snow. Join us on June 12th for a benefit to help rebuild our beloved bowling alley and social spot! Bar-Don Lanes in Easton will be hosting a bowling tournament with proceeds going to Hampton Lanes. Visit bar-don.com for details.
JUNE 14, 2021 | LOVE RAN RED GOLF TOURNAMENT: 4th Annual Golf Fundraiser to benefit Love Ran Red Foundations Housing Program & Duke's Delites Employment Program for adults with Autism & Developmental Disabilities in the Lehigh Valley. Sponsorships, Foursome, Single Golfer, Hole Sponsor now available. Reserve you spot now!